Cross-posted at the Francis L. Holland Blog
and the Political Fleshfeast.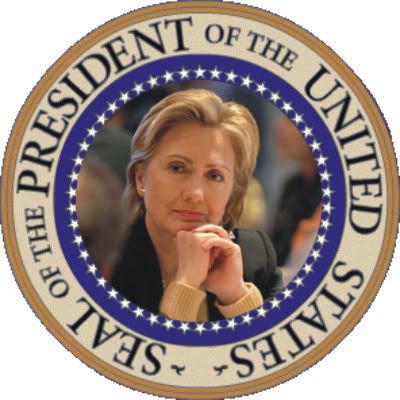 The Washington Post reports today that for the first time Hillary Clinton is polling with over half of the Democratic and Independent voter electorate supporting her, and opening up a wide lead against Obama and Edwards, with all other candidates in single digits:
Sen. Hillary Rodham Clinton has consolidated her place as the front-runner in the contest for the Democratic presidential nomination, outpacing her main rivals in fundraising in the most recent quarter and widening her lead in a new Washington Post-ABC News poll.

For the first time, Clinton (N.Y.) is drawing support from a majority of Democrats -- and has opened up a lead of 33 percentage points over Sen. Barack Obama (Ill.). Her popularity, the poll suggests, is being driven by her strength on key issues and a growing perception among voters that she would best represent change.

( . . . )



Among Democrats and Democratic-leaning independents, 53 percent support Clinton, compared with 20 percent for Obama and 13 percent for former senator John Edwards (N.C.).

Despite rivals' efforts to portray her as too polarizing to win the general election, a clear majority of those surveyed, 57 percent, said Clinton is the Democratic candidate with the best chance on Nov. 4, 2008. The percentage saying Clinton has the best shot at winning is up 14 points since June. By contrast, 20 percent think Edwards is most electable and 16 percent think Obama is, numbers that represent a huge blow to the "electability" argument rivals have sought to use against her.
Washington Post

The question now is, "What can Obama and Edwards do that will best assure a Democratic victory in 2008?" Although they may be tempted to try to drive up Hillary's negatives in advance of the Iowa caucuses, they should instead focus on the positive and try to position themselves for the vice presidency or other important positions in a new Democratic administration. For either of them, being perceived as a spoiler now could end their political viability for the future.