Cross-posted at the Francis L. Holland Blog

and the Political Fleshfeast.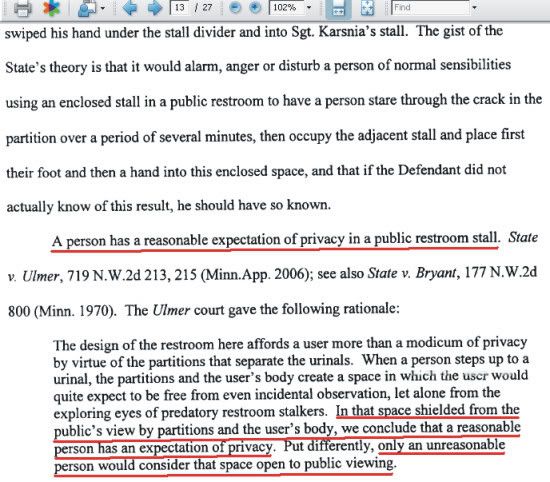 Even though Senator Larry Craig is a homophobic anti-gay Republican, I feel some compassion for him because he is appears to be a gay man making his way in a virulently homophobic society. The fact that he is an agent of the homophobia shouldn't cause us to entirely discount the fact that he is a victim of it as well.
In addition to determining whether he can try to hold onto his Senate seat (which I hope he won't), the decision of the Trial Court helps us to understand the boundaries of sexual behavior for gays and heterosexuals in public bathrooms and elsewhere, and so I'm taking a look at that here.
I think I agree with the decision of the Trial Court about the appropriate boundaries of behavior in a public bathroom. Craig was arrested because he physically invaded a bathroom stall, a place where a stranger has a reasonable expectation of privacy.
Most of us men would be shocked and angered if another man put his eye up to the crack in our bathroom stall to make eye contact with us or ogle us while our pants were down. That is the behavior to which Larry Craig plead guilty, and so it is not unreasonable that he should be punished for it. This behavior would be just as offensive between as man and a woman as between a man and another man.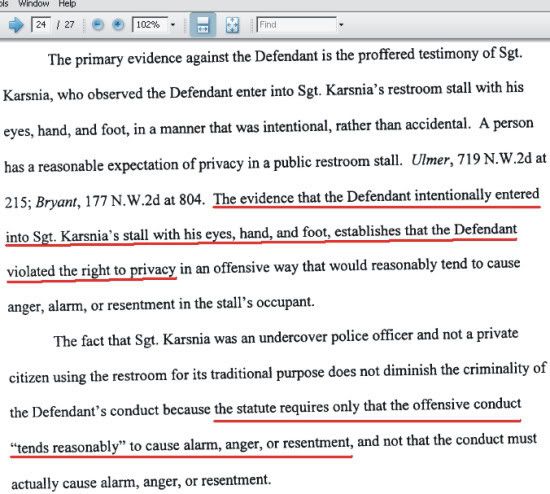 To understand why Larry Craig's behavior is problematic, you have to imagine how you would feel if someone peered into into your stall through a crack while you were undressed in a public bathroom. It is conceivable that the public policy purpose in forbidding this behavior is not to penalize gay sex specifically or homosexuality in general, but rather is meant simply to compel all of us to observe the privacy rights of others while using public bathrooms.
In it's decision here, the Trial Court was careful not to criminalize all gay sexual behavior that might take place in a public bathroom, ruling only against physical behavior that invades the privacy of another. So, if the "other" invited the behavior and the sharing of physical space was was consensual, then this decision leaves room for such an instance not to necessarily be criminal. If the Senator had waited for the police officer to exit the stall and then verbally invited him to go to a hotel room for free sex, then perhaps he would not have been charged, since his behavior would not have invaded the private stall of another.
And if the Senator had pled innocent, he could have argued that he believed he had the consent of the police officer, because the officer acted as if he wanted Craig to share his bathroom stall.
But one aspect of this case that makes it hard to have any sympathy for Craig, even as a gay man in the closet, is that he waived the right to an attorney. The normal Republican approach to this incident would have been to lawyer up, deny everything, and insist that he was innocent until proven guilty. But Senator Craig was so afraid of facing this situation that he apparently did not talk to a lawyer at all before pleading guilty, even though two months elapsed between his arrest and his guilty plea. He appears to have been in utter denial, and hoping that the world would stay in denial as well.
Had he consulted a lawyer, a lawyer surely would have advised him (a) not to plead guilty, because he might be able to mount a successful defense and pleading to these facts would ruin his career, and (b) the contents of the criminal file were sure to receive public attention regardless of what he did.
Larry Craig is surely wealthy enough that he could have obtained counsel. Again, we almost have to feel sorry for him, or be furious with him, for his desperate attempts to keep his misdeeds secret, like the pedophilic Catholic priests using one machination after another while trying to save their careers and their reputations, and deny that they are pedophiles.
Larry Craig was running scared, and that's why he didn't get the a lawyer. He was scared that people would discover that he is gay, it appears. And he was scared the world would discover that he is a phenomenal hypocrite for voting against gay rights while secretly living a gay lifestyle. He's a tragic figure living a tragedy partly of his own creation and partly of this society's creation.