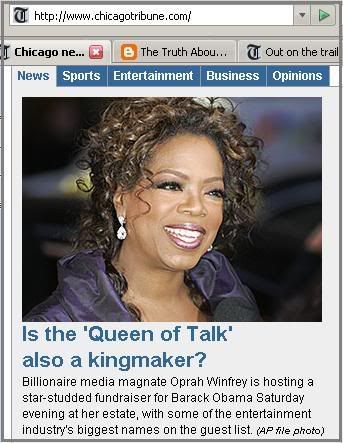 By Christi Parsons and John McCormick, Chicago Tribune staff reporters
September 8, 2007
MONTECITO, Calif. - Barack Obama was running late for work at the U.S. Capitol one day, when a beefy security guard in dark sunglasses stopped the senator's car and peered in sternly to ask for identification.
All of a sudden, though, the Senate ID wasn't necessary for the freshman Illinois lawmaker.
"Hey, you were on 'Oprah'!" the man said, stepping back to direct Obama's car through the checkpoint with a friendly wave.
"It's at that point that I realized the power of Oprah Winfrey," Obama recalled in an interview Friday about his talk-show-host friend. "Her reach extended beyond the stereotypical demographic ... And the appearance on her show amplified my profile around the country."
By that time, Obama was several months past the 2004 Democratic National Convention speech that made him a political star, and his first published memoir was selling well.
But an appearance on "The Oprah Winfrey Show" had widened his path into the world of pop culture, a critical domain as he began to build his celebrity-infused political portfolio. The relationship has grown along with Obama's rise, as the two Chicago celebrities have turned a passing acquaintance from the city's social circles into a powerful friendship with national implications.
Chicago Tribune
( . . . )